Talkshow with Morgan Tsvangirai at De Rode Hoed
In November 2004, after being forced to stay at home for two years because of vague charges of high treason, Morgan Tsvangirai went on a European trip to find international support for the cause of the MDC. At the time of the talkshow the MDC had not yet decided whether to join the upcoming elections or not.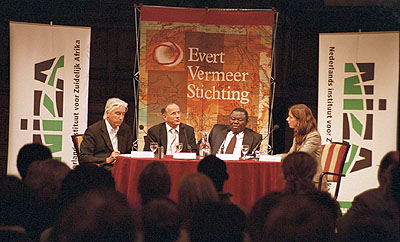 Max van den Berg, Peter Hermes, Morgan Tsvangirai, Marcia Luyten


Listen to the audio-clips recorded during the talkshow about the upcoming elections in Zimbabwe, held in De Rode Hoed, in Amsterdam on November 22nd, 2004.

Speakers:
Morgan Tsvangirai (MDC)
Max van den Berg (Dutch member of the European parliament for PvdA, the Dutch socialist party)
Peter Hermes (director NiZA)

Presenter:
Marcia Luyten (journalist)


Introduction by Marcia Luyten

Will you participate in the elections or not?

What is the main risk of not participating?

What has to change before you enter the elections?

Can you see Mugabe make a move towards you?

Is the MDC today as strong as in 2000?

Introducing Max van den Berg (PvdA) and Peter Hermes (NiZA)

What can the international community do?

What are the consequences of the 'NGO-bill'?


You need Realplayer to hear the clips.


The talkshow was organised by NiZA, Zimbabwe Watch and De Evert Vermeer Stichting in concurrence with De Rode Hoed, Amsterdam.